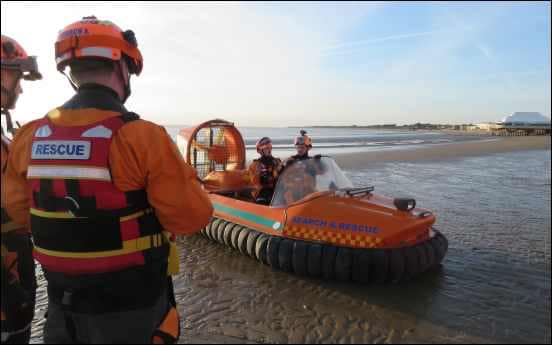 18 Jul

#39 – PERSON IN MUD – 27/08/2019

Our hovercraft was called out at 12.25pm by Coastguards to reports of a woman struggling through knee-deep mud on Brean beach.
Our Spirit Of Lelaina 2 hovercraft was launched from Burnham beach and a second crew travelled by road to Brean alongside Burnham Coastguard Rescue Team.
The woman was struggling in some sticky knee-deep mud with an incoming tide creeping up behind her, so time was of the essence.
Two of the Coastguard team members quickly kitted up in mud rescue suits and were flown out to the lady on our hovercraft.
The lady who was extremely tired, having waded a good distance through the mud. The mud techs sat the lady on a stretcher for a couple of minutes to ensure she was fit to travel and then she was helped onto the hovercraft and flown back to other Coastguard team members to ensure she was medically fit to be released from our care.
While she was resting on the stretcher she explained to the Coastguard mud techs that her children had wandered off towards the mud and she was attempting to follow them to call them back. She was getting into difficulty and the suction of the mud quickly saps the energy of anyone who ventures out too far. Thankfully she was able to get the children's attention and send them back to the safety of the shore with other family members however she was in a very tired state and was making very slow progress back to shore herself.
Without the assistance of the Coastguard and BARB, she may have struggled to get back before the tide reached her, so she was in a perilous position.
Close team-working meant this was another successful incident with a positive outcome.